Jade Anderson dogs death: Court hears of 'horrific' scene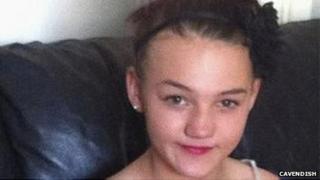 The moment a policeman found a girl who had been mauled to death by four dogs was the most distressing sight of his life, a court has heard.
Jade Anderson, 14, died on 26 March at the house in Atherton, near Wigan.
Magistrates heard PC Martin Burkinshaw would "never forget" encountering a bull mastiff-type dog covered in blood.
Speaking after the sentencing of dog owner Beverley Concannon, Jade's family said they were "disgusted" she had walked free with a suspended sentence.
'Should be held responsible'
At Wigan Magistrates Court, 45-year-old Concannon was given a 16-week suspended jail term after admitting causing suffering to the four animals.
Jade had been at Concannon's house in Chaucer Grove visiting a teenage friend.
The judge said Concannon, who was out of the house when Jade was attacked, should have been aware of her dogs' aggression.
In September, the Crown Prosecution Service ruled there was "insufficient evidence" to bring a charge of manslaughter by gross negligence against Concannon.
It was also not possible to bring charges under the Dangerous Dogs Act because her animals were not banned breeds and were not out of control in a public place.
Jade's mother and stepfather have campaigned for the government to tighten the laws around dangerous animal ownership.
They want dog owners who fail to stop their pet attacking someone to be liable to prosecution.
Speaking after Concannon's sentencing, Jade's stepfather Michael Anderson said: "I'm devastated and disgusted in the justice system.
"Today was just about dangerous dogs. I think she should be held responsible for Jade.
"We have got a life sentence. It has absolutely ripped us apart."
During the sentencing hearing, Paul Taylor, prosecuting, read a statement from PC Burkinshaw about how the officer found Jade's body in the kitchen and all four dogs at the back door trying to get in.
The statement said: "The sound of the dogs in the backyard was horrific.
"I will never forget what I saw. There was a large white bull mastiff-type dog.
"Its head and mouth were covered in fresh blood and it was bounding in the back yard."
The hearing was told how one dog, Buddy, an American bulldog, was "stir crazy".
It was kept in a cage as punishment and was not walked or trained, the court was told.
The dogs were put down after the attack on Jade.
District Judge Mark Hadfield told Concannon her treatment of the dogs had contributed to their state.
He ordered her to pay costs and a victim surcharge totalling £165 and banned her from keeping dogs indefinitely.