Liam Gallagher performs for The Charlatans' Jon Brookes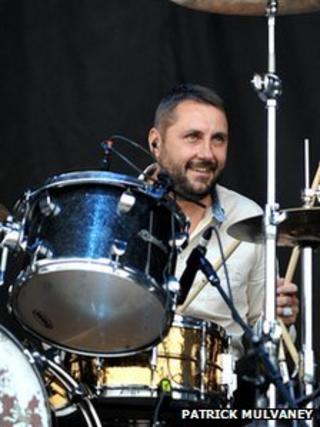 Liam Gallagher has said it was an easy decision to take part in a special concert in memory of The Charlatans' drummer Jon Brookes.
Mr Brookes, 44, who was diagnosed with a brain tumour three years ago, died in August.
The Charlatans will perform alongside other guests at the Royal Albert hall on Friday night in aid of The Brain Tumour Charity.
Liam Gallagher described the musician as a "good lad".
"He didn't have an ego, do you know what I mean?
"I wouldn't claim to be his best mate and that. I only met him through the gigs we've done, but every time I met him I had a splendid time."
Gallagher said he was on holiday at the time the concert was announced, but said he signed up straight away.
He will be performing alongside fellow former Oasis band mates Andy Bell, Paul "Bonehead" Arthurs and Chris Sharrock, as well as Jay Mehler, currently part of Gallagher's band Beady Eye.
'Very positive'
West Midlands indie band The Charlatans said they organised the gig as a "fitting tribute" to founding member Mr Brookes, originally from Staffordshire.
Keyboard player Tony Rogers said in some ways the event would be a tough night, when the reality of their friend's death "will hit home".
"He was always very upbeat. His illness never got on top of him, he never let it get to him. He was always very positive and never moaned," Rogers said.
"It's not like he's gone really. It's like his spirit is still there. It will be a tough one I think, but every time you think of Jon it puts a smile on your face."
The Brain Tumour Charity's chairman Andy Foote said: "One of our biggest challenges is raising awareness of the disease, because the general public are not aware of the facts and they're quite startling.
"For example, brain tumours kill more people under the age of 40 than any other cancer, yet less than 2% of funding that goes into cancer research goes into brain tumours."