File on ex-BBC paedophile Michael Souter to be kept for 60 years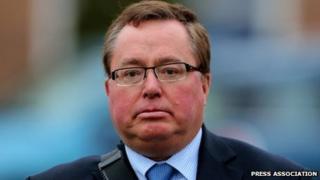 Prosecutors are to keep a file on a former BBC presenter convicted of child sexual abuse for at least 60 years in case further offences come to light.
Ex-BBC Radio Norfolk and Radio Clyde broadcaster Michael Souter, 60, was found guilty on Thursday of 19 sexual assaults on seven boys aged 11 to 16.
Norfolk Police said it was pursuing a "live inquiry" into further allegations against him.
Officers have identified 595 potential witnesses.
Souter was also convicted at Norwich Crown Court of seven counts of making and possessing indecent images of under-18s after a six-week trial.
He faced two more charges of possessing indecent images of a child, but was cleared of one and the jury failed to reach a unanimous verdict on the other.
'Prolonged child abuse'
He was remanded in custody and will be sentenced on 31 October.
The court heard Souter, who carried out his attacks between 1979 and 1999, was a "deviant sexual abuser", particularly attracted to boys in shorts and uniform.
After the trial, senior investigating officer Det Insp Paul Brown of Norfolk Police said: "This is one of the worst cases of prolonged child abuse I have ever dealt with."
Souter was a Scout leader, a volunteer mentor to young people for Norfolk social services, and was even allowed to adopt a child before his offences came to light.
The court heard he had been investigated twice before over sex abuse allegations but the files were lost.
He was first arrested in September 1993 but the Crown Prosecution Service (CPS) decided there was insufficient evidence to prosecute.
Files destroyed
Police investigated fresh allegations in May 2002, but Souter was in Spain and the CPS concluded there was not enough evidence to bring him back to the UK.
In September 2010 another victim came forward, giving police the name of two more.
Souter was arrested in June 2011, leading to his conviction on Thursday.
The court heard how the disappearance of files meant police had to start investigating from scratch.
Chris McCann, head of the CPS complex casework unit for the East of England, said the files were destroyed in line with procedure.
He said he had therefore not seen them and was unable to say whether it had been right not to prosecute Souter earlier.
Mr McCann said he regretted how long it had taken for Souter's victims to see justice done.
"As a result of this case, Norfolk Police have changed their document destruction policies and they keep things for a considerable period longer than they did in the 1990s," he said.
That would enable officers investigating any further allegations to access files and pass them to the CPS if necessary, he added.
"This case of Michael Souter will go into CPS storage and, because of his profile, will remain in storage, at least for 60 years," he said.
Souter worked for Radio Clyde from 1977, joining BBC Radio Norfolk in 1980.
He later set up his own public relations company and worked as a travel writer.