Richard III judicial review: Plantagenet Alliance wins costs order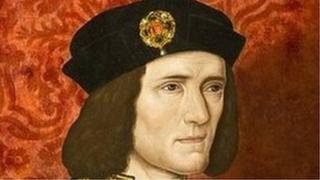 Distant relatives of Richard III will have their costs protected even if they lose a legal battle over where the monarch's remains should be reburied.
The Plantagenet Alliance favours reburial in York and has won a judicial review challenging a decision to re-inter the king's bones in Leicester.
Justice Secretary Chris Grayling argued in the High Court that taxpayers should not foot the bill for the review.
But a judge has ruled the Alliance can have a protective costs order (PCO).
Mr Justice Haddon-Cave ruled that he was satisfied that "it was, and is, appropriate, to grant a full PCO".
A Ministry of Justice spokesman said: "It is unfair for taxpayers to have to fund the case being brought by the Plantagenet Alliance and we are disappointed by the court's decision on this issue.
"We will now consider the judgment on this appeal and decide our next steps.
"We will continue to vigorously defend our position at the main judicial review hearing.
Richard's skeletal remains were discovered buried under a council car park in Leicester last year and the plan is for them to be re-interred at the city's cathedral.
But the relatives claim it was the king's wish to be buried at York and have launched what the judge has described as "Wars of the Roses Part II".
The Alliance is seeking a High Court judicial review and accuses the justice secretary of failing to consult properly before giving archaeologists from the University of Leicester licence to excavate and to decide where the bones should be reburied.
The judge observed: "It seems that this case will be hard fought, despite entreaties, with no quarter being given on either side".