Legionella link to Royal Caribbean 'not definitive'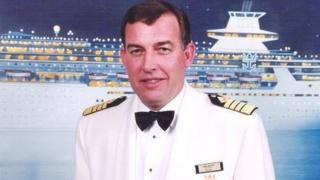 An ex-captain's death from Legionella cannot be definitively linked to a cruise ship, an inquest has heard.
Tore Myhra, 57, died in a Miami hospital in November 2009, four days after becoming ill on board a Royal Caribbean cruise.
An inquest in Norwich heard the ship tested negative for Legionella.
Norfolk assistant deputy coroner David Osborne said: "It's not possible to definitively say the ship was more likely than not the source."
But, he added, some water samples were taken only after "remediation" had been carried out because a passenger on the ship's previous cruise died of Legionella on her return to the UK.
'Feeling rotten'
Norwegian-born Mr Myhra, his wife Sue and teenage daughter Layna, of Belton, near Great Yarmouth, had boarded Liberty of the Seas on 24 October.
He became ill five days later and after "feeling rotten" for two days he went to the ship's hospital and was diagnosed with Legionnaire's disease.
Mrs Myhra recalled her husband as saying: "I shouldn't have that, we've got to find out what happened."
He was taken to Miami hospital when the ship docked, with the family constantly at his bedside.
On 1 November, Mrs Myhra took Layna to the airport so she could return to school in the UK.
Mrs Myhra said: "When I got to the airport, I had to take Layna into the departure lounge to hand her over to a stewardess.
"My mobile phone rang and it was from the hospital, and she just said 'you need to come back because your husband has died'."
Mr Osborne said Mr Myhra's cause of death was Legionella pneumophila pneumonia - the same as 70-year-old Jean Young, who died in hospital in Grimsby on 10 October 2009.
The coroner said the only common link was that they had been on the same ship, and had stayed on the sixth floor.
The Royal Caribbean Cruise told Liberty of the Seas to take water samples and "clean and scrub" various parts of the water systems on 29 September, when Mrs Young was diagnosed with Legionnaire's disease back in the UK, the court heard.
Water samples were also taken from the ship in July, while Mr Myhra was on board, and after he disembarked.
All had tested negative for Legionella.
Mr Osborne said any question of neglect under coronial law did not arise, but added: "I will, nevertheless, place on record that had I had to deal with the question of neglect I would not have made that finding".
He recorded a verdict of death by natural causes.