Mother takes under-age binge drinking teen to police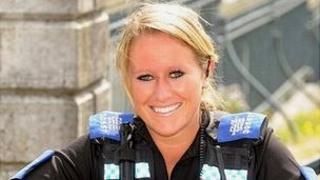 A mother has taken her 13-year-old daughter to a police station after the teenager lied and spent a night in a park after binge-drinking on vodka.
The woman, from Plymouth, said she felt "deceived" by her daughter who told her she was staying at a friend's house.
The mother said she took her to a police station in Cornwall to show her under-age drinking "does not end well".
PCSO Kirsty Down said under-age drinking was more of a problem in small towns because "children are bored".
Litres of vodka
The mother said her daughter's school told her about the drinking after teachers overheard her talking about it.
When she found out, she said she felt "every emotion possible and I went through every scenario".
"She could have had too much to drink, someone could have taken her, she could have been raped or even murdered.
"The three girls bought two litres of vodka... I felt sick to the bottom of my stomach."
PCSO Down said the girl was "quite shocked" after she was told about the dangers.
"We are working with schools, colleges, our licensing team and trying to engage with young people on social media to prevent under-age drinking."
She added the force's licensing team was collecting evidence on the shop in Cornwall which had sold the teenagers the alcohol.