Nobel laureates urge Putin to free Greenpeace activists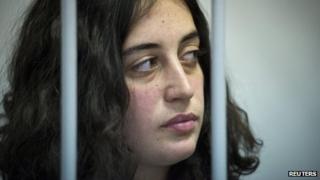 Eleven Nobel prize-winners have written to Vladimir Putin asking the Russian president to drop charges against 30 Greenpeace activists and journalists.
The 30, who come from 18 nations, were held last month during a protest against oil drilling in the Arctic.
The signatories - including Archbishop Desmond Tutu - described the charges of piracy as "excessive".
But Mr Putin's press secretary, Dmitry Peskov, responded that the president had no power to influence the courts.
The Greenpeace activists, who complain of being detained in harsh conditions, face up to 15 years in prison if convicted.
So far all bail applications in the case have been refused.
The Netherlands has launched legal action to try to free the activists and the ship, and more than 1.4m people have joined a Greenpeace campaign demanding their release.
'Wrong addressee'
In the letter, which was released by Greenpeace, the laureates urge Mr Putin "to do all you can to ensure that the excessive charges of piracy against the 28 Greenpeace activists, freelance photographer and freelance videographer are dropped, and that any charges brought are consistent with international and Russian law.
"We were heartened by your statement, on September 25th, that you did not believe the Greenpeace crew members were pirates," the letter goes on to say.
"As you know, the Greenpeace activists were unarmed and used only peaceful means to demonstrate their opposition to the oil drilling operations threatening the Arctic.
"Arctic oil drilling is a dangerous, high-risk enterprise. An oil spill under these icy waters would have a catastrophic impact on one of the most pristine, unique and beautiful landscapes on earth," the letter continues.
It is also signed by former East Timor President Jose Ramos Horta, Northern Irish peace campaigner Betty Williams, and Iranian human rights activist Shirin Ebadi.
But Putin spokesman Mr Peskov said the laureates had addressed their appeal to the wrong person, reported Russian news agency RIA Novosti.
"The president treats Nobel prize winners and their opinions with great respect and attention. But in this case, the president is a wrong addressee," the agency quoted him as saying.
He said President Putin could not file or drop charges.
"Investigative bodies deal with it, and everyone should wait for the end of the investigation process and the court's verdict.
"A law is a law," he added.