A14 toll plan: Opposition LibDems petition parliament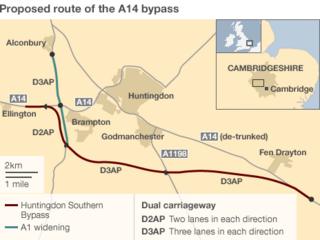 A row has broken out at a district council in Cambridgeshire over a decision to contribute £1m to a fund to build a new A14 toll road.
A petition to call in East Cambridgeshire's decision has been delivered to parliament by the LibDem opposition on the Conservative council.
LibDem Gareth Wilson said the toll road was intended to take lorries off the main A14 but this would not happen.
Council leader James Palmer said a clear toll road would attract hauliers.
He said it was imperative for the A14 to be upgraded.
Rat-run fear
"If you're in business and need to get from A to B you can't afford to sit around," Mr Palmer said.
"The simple fact is the A14 toll will be cheaper than being stuck in traffic or going on a detour.
"The government has told us rates will be set for that so I believe haulage firms will use the new toll road."
Mr Wilson, who signed the petition now with parliament, said experience has shown otherwise and the council should not have to pay for the upgrade of the road.
He fears that lorry drivers who do not want to pay for the toll will use the district's villages as rat-runs.
"The M6 toll road (around Birmingham) was paid for by the private sector and cost £143m," he said.
"You will find that nearly all the lorries use the old M6 road because the tolls are too expensive.
"The cost for a car to start with was £2 now it is £5.50."