Staffordshire County Council upbeat despite empty i54 plots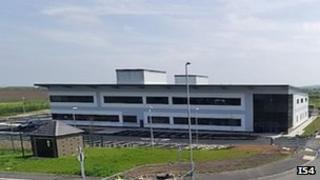 A new £67m business park should be filled, with a fourth firm having signed up, Staffordshire County Council has said.
Some £40m of taxpayers' money has been invested in the i54 park, to the north-west of Wolverhampton, by the county council and Wolverhampton City Council.
They have targeted 3,000 jobs at the i54 by 2015, with 6,000 by 2020.
International Security Printers (ISP) is the fourth firm to sign contracts for the site.
The company, which employs 80 staff and specialises in self adhesive stamps, will start work on a five-acre (two hectare) plot later in the month.
Managing director Paul White said it would also mean an "ambitious programme of investment" in new equipment.
Aerospace company Moog and food testing specialists Eurofins have already opened at the i54 park, bringing about 580 jobs between them.
Jaguar Land Rover's £355m engine plant is still under construction. When completed, it is expected to attract 1,400 jobs.
It still leaves 10 hectares (25 acres) empty at the site.
Spending money
"We have every confidence the remaining plots will be filled by the likes of [automotive] suppliers or high tech companies," said Mark Winnington, Staffordshire county councillor in charge of economy and infrastructure.
"We really are in a fantastic place to do business and we've got a good offer. We've got the skills in the area, the connectivity, the M6, M54, the West Coast Main Line right past.
"We're also providing support for firms and are doing everything we can to make it as easy as possible to trade in Staffordshire.
"We are spending money, but in the long-term we're expecting a lot of that to come back."
Stephen Roper, director of the Enterprise Research Centre at Warwick Business School, said focusing on firms operating in the same sector was a key approach to filling empty units.
"Throughout the recession the Midlands has seen high vacancy levels across its business parks despite the central location of the region, and its proximity to key transport links."
He said clustering similar businesses together was particularly useful for start-up firms, although whether they invested relied more on contract opportunities in the local supply chain rather than a lack of available space.
"Good examples are the focus of Birmingham Science Park on the digital and games sectors and Birmingham Research Park on the bio-medical and health sectors," he added.