Teachers' strike: Rally held in Bristol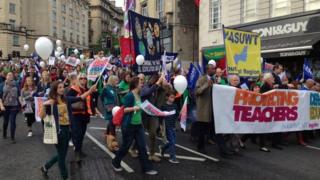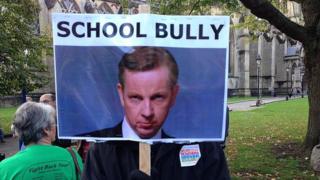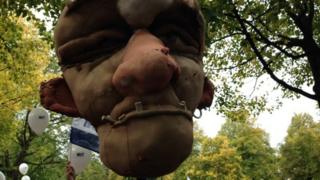 Thousands of teachers have taken part in a rally in Bristol in protest over pay, pensions, and jobs.
Members of teaching unions the NUT and NASUWT took part part in a march which began at College Green on Thursday.
Hundreds of schools in the region were closed or partially closed due to the one-day strike.
It was part of a continuing campaign of regional strikes which are also taking place in London, Cumbria, the South East, North East and South West.
Representatives from Bristol, Gloucestershire and Somerset were reported to be "in big numbers" at the Bristol rally.
Teachers object to proposals by Education Secretary Michael Gove to bring in performance-related pay, increase their workloads and make changes to their pensions.
Dr Patrick Roach, NASUWT Deputy General Secretary, who was due to address the rally, said: "Teachers' dedication and professionalism must not be taken for granted and today's strike by teachers is a demonstration of their commitment.
"The massive turnout by teachers across the South West confirms the depth of anger of teachers and the Government must now take seriously teachers' concerns."
NUT general secretary Christine Blower said the union regretted the disruption caused to pupils and parents but teachers felt they had "no other choice".
One teacher who addressed the rally, Claire Nichols, told the crowd that newly qualified teachers begin with a "mountain of debt".
"This government won't stop destroying our profession. Not content to ruin our lives, Gove is ruining our children's lives too," she said.
Organisers said they estimated about 3,000 people had attended the rally.