MPs to debate Russian detention of Greenpeace Britons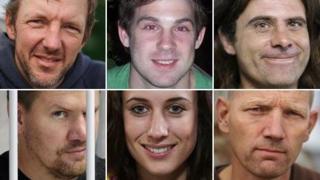 MPs are to debate the detention of six Britons arrested by Russian authorities after a Greenpeace oil rig protest.
Thirty people were detained after the ship Arctic Sunrise was boarded by armed officials in September.
They have been accused of piracy and are currently being held in Murmansk, in north-west Russia.
The six Britons are Philip Ball, Kieron Bryan, Iain Rogers, Frank Hewetson, Alexandra Harris and Anthony Perrett.
Mr Bryan's family have previously attacked the UK government for not doing enough to free him.
The Greenpeace ship was seized by Russian security forces after some activists tried to scale an offshore oil platform.
All bail applications have so far been refused and the group is being held in pre-trial detention until late November.
The charge of piracy carries a maximum sentence of 15 years.
The debate follows a meeting of MPs who have constituents being held in Russia. It will be held on 23 October.
Three of the Britons - Mr Bryan, Mr Rogers and Ms Harris - are from Devon.
Geoffrey Cox, Conservative MP for Torridge and West Devon, said securing the debate was one of a "series of actions" to put pressure on the British government.
"I am in regular contact with the Foreign Office on behalf of the families concerned, and I am determined to keep up the pressure on the government to ensure absolutely everything is done to bring them back safely as soon as possible."
Andy Bryan, father of freelance video journalist Kieron, said the debate was "good news" for the families.
"In terms of publicity, a debate in the Commons is good news for us and will hopefully get [Foreign Secretary] William Hague to do something," he told BBC News.
Mr Bryan said a member of the British Consulate had visited his son on Friday and said he was doing well.
"Kieron's trying hard to stay positive, but he has good days and bad days, which isn't surprising if you're spending 23 hours a day in a cell, he said.
"We haven't spoken to him yet, but he's asked for permission to make a call and we're hoping to get one within the next 48 hours."