Teachers' strike: Can industrial action be justified?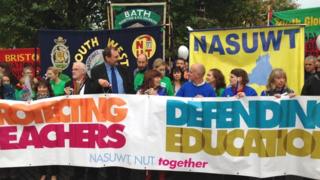 With thousands of schools closed across England as members of the two biggest teaching unions go on strike, do people who have been affected feel industrial action was justified?
Parent
Tim Marks, from north Devon, who has a 14-year-old son, said he disagreed with the teaching unions over the strike.
"It's not a day of action, it's two days of action," he said.
"Some children in north Devon were sent home after a half day yesterday so teachers could 'prepare for the action'. The unions should explain that.
"What preparation is needed for a day of industrial action?".
David Sharratt, principal at Braunton Academy in north Devon, said his staff did not prepare for strike action by closing early.
"The preceding day was a planned shortened day for students where we staged a two hour parents meeting with tutors, planned in June 2013, well before the union planned their strike," he said.
Teacher
Claire Nicholls, who is a teacher in Bristol, told a rally in the city that newly qualified teachers begin with a "mountain of debt".
She said: "This government won't stop destroying our profession.
"Not content to ruin our lives, Mr Gove is ruining our children's lives too."
Her words brought a large round of applause from the crowd, said the BBC's Chris Kelly.
Head teacher
Fowey Community College head teacher John Perry told BBC Radio Cornwall he took the decision to close the school on "safety" grounds.
"For families, that's very awkward - for the staff they lose a day's pay, but that's their choice," he said.
"For our students, at this time in their education, every day lost can make a real difference."
Businessman
David Shephard, who is the Devon regional chairman of the Federation of Small Businesses, told BBC Radio Devon that a proportion of school leavers were "not fit for purpose, not fit for the business world".
He said: "The educationalists within the various unions want to continue with a system that is not working for those that are underachieving.
"If businesses don't succeed, they go out of business.
"It's not unreasonable that if teachers are not succeeding, they're got rid of. It's as simple as that."