Derbyshire horse rider Aimee Woodward crushed to death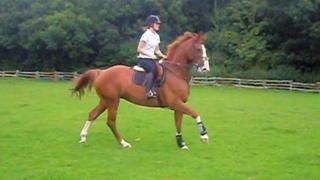 A rider died after she was crushed by a horse in a fall at a cross-country circuit, an inquest has heard.
Aimee Woodward. 22, from Draycott, Derbyshire, fell from her mount at Aylesbury near Melton Mowbray in September 2012.
She was airlifted to hospital in Coventry but died from her injuries a month later.
The inquest heard her horse slipped down a slope and fell on top of her.
Brain injuries
A paramedic who responded to the emergency call tried to call a doctor but one was not available, the inquest was told.
Ms Woodward was wearing a helmet at the time of the accident but not a back protector, the inquest jury heard.
Laura Newman, who ran stables in Derbyshire where Aimee kept her horse, said she did not think a back protector would have offered enough protection to save a rider if a horse fell on top of them.
Ms Woodward was treated for her injuries, but eventually treatment was withdrawn because her condition deteriorated.
She died of brain injuries and multiple trauma on 1 November 2012.
The inquest continues.