Get Community Payback app lets people nominate where criminals work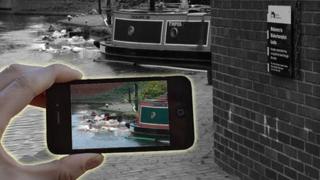 A new app allows people to nominate where criminals on the community payback scheme should be put to work.
Users can submit a photo of a litter or graffiti-strewn area, with the app tagging the precise location.
The app, which is compatible with devices using the Android operating system, was developed by Staffordshire and West Midlands Probation Trust.
The trust can send criminals sentenced to work on the community payback scheme to clear up the mess.
Users of the app are sent a notification once the work is complete.
Technology for the Get Community Payback app was developed using £41,000 the trust won in a competition run by Ordnance Survey.
A spokesperson said: "When our officers go out they will know exactly where to go, and exactly what they are looking for."
Across Staffordshire and the West Midlands, over 612,000 hours of Community Payback were completed last year by more than 4,500 offenders on a community sentence, the spokesperson said.
The work included litter picking, clearing dense undergrowth, repairing and redecorating community centres and removing graffiti.
The trust hopes to have an iOS version of the app ready by Christmas.
It is also offering other probation trusts in the UK the chance to use the app.