Crewe could get new HS2 station, says council leader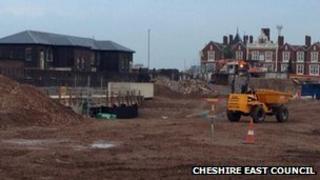 Crewe could get a new railway station, plus monorail, as part of plans to build the high-speed rail line HS2.
Michael Jones, Cheshire East Council leader, said he had held "positive talks" with Network Rail about building the new station 300 metres from the existing one.
He said it would cost between £200m and £600m depending on how many services would come through it.
The current railway station is undergoing a £6m refurbishment.
Network Rail confirmed it was in discussions with Cheshire East Council about the long-term future of Crewe station.
It has previously said constraints at the station were limiting capacity on the West Coast Main Line.
Mr Jones said the council's plan was to make the existing station a transit station that would link to the new building and Crewe town centre via a monorail system.
A new station would improve services to places including Stoke, Warrington, Chester, Liverpool, North Wales, Shropshire and Manchester, he said.
"It would make connectivity much easier for everybody, including Network Rail and they're going to have to spend money on the signals here anyway," he said.
"We can get rid of that cost by building a new station, so pound for pound it wouldn't cost much more to build a new station."
The high-speed route is planned for between London and Birmingham, before being extended to Manchester and Leeds.