Sailor Andrew Simpson 'died from blunt trauma and drowning'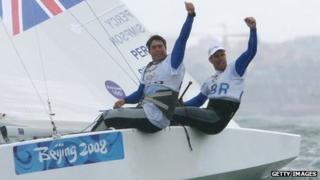 British Olympic champion sailor Andrew Simpson died from "blunt trauma with drowning" when the yacht he was in capsized in May, a report has revealed.
Simpson, 36, suffered multiple blows to his head and body when the Swedish America's Cup catamaran he was sailing in capsized in San Francisco Bay.
The San Francisco medical examiner said he was trapped in the wreckage for 10 minutes and unconscious when found.
The father of two won Olympic gold at Beijing 2008 and silver at London 2012.
'Normal conditions'
Simpson, from Sherborne in Dorset, was one of an 11-man crew on board the 72ft (22m) Artemis Racing catamaran when the accident happened during a training session on 9 May.
The medical examiner's report, released in California on Tuesday, said in the moments before the boat capsized it was turning downwind in normal conditions, travelling at about 30 knots (34mph) with wind of about 20 knots (23mph).
The front of the vessel dipped below the surface, the port hull broke and inverted on top of the wing, it said.
The document did not reveal why Simpson, who was nicknamed Bart, was unable to escape from the wreckage.
The champion sailor was wearing a helmet, wetsuit, flotation device and shoes when he was trapped.
'Floating in water'
The report said four other boats helped the remaining 10 crew members off the yacht but, it said, Simpson "remained trapped for approximately 10 minutes".
He "was then located, floating in the waters of the bay, unconscious", the report said.
A toxicology report found the only drug in Simpson's system at the time of his death was caffeine.
The boat was being skippered by Iain Percy, who had been friends with Simpson since they were children, and won gold alongside him at the 2008 Olympics and silver four years later.
They also won gold together at the 2010 World Championships in Rio.
Percy was one of the pallbearers at Simpson's funeral at Sherborne Abbey, as was four-time Olympic sailing champion Sir Ben Ainslie, who had also known Simpson for many years and who went on to win the America's Cup last month.
Ainslie, Percy and Simpson's widow Leah have set up a foundation in his name to support youth sailing.