West Midlands NHS 111 is taken over by ambulance service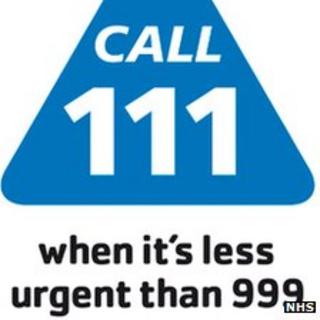 West Midlands Ambulance Service (WMAS) has taken over the running of the NHS 111 helpline from NHS Direct across most of the West Midlands.
WMAS will run the project for Birmingham, Solihull, the Black Country, Shropshire, Herefordshire, Coventry and Warwickshire.
An NHS commissioners' report in April 2013 found the NHS Direct service in some areas was "unacceptably low".
It said some centres were struggling to cope with the number of calls.
Shropshire's service was withdrawn in March, with calls being diverted to a local provider Shropdoc.
'Significant issues'
In Worcestershire, the NHS Direct-run line was withdrawn in April - a month after it started - amid concerns for patient safety.
In July, Dr Robert Morley, from the Birmingham Local Medical committee, said the 111 service had been a "disaster" in the city.
At the time, the regional project director for NHS 111 in the West Midlands, Wayne Bartlett, said the testing phase "encountered some significant operational and technical issues on implementation".
On Tuesday, the chief executive of WMAS, Anthony Marsh, said WMAS had expertise in running complex clinical call handling operations, which "will allow us to bring real improvements to the 111 service".
The NHS Direct 0845 46 47 telephone number will be switched off at the end of November in the West Midlands and callers will be advised to end the call and re-dial 111.