Science teacher admits blackmailing girls for sexual images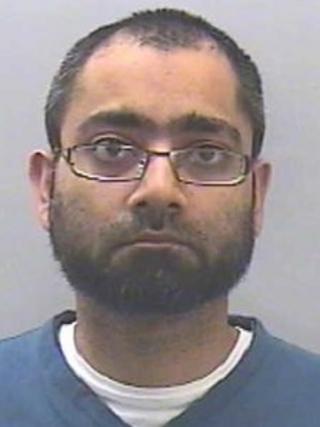 A teacher has admitted blackmailing girls into sending him sexually explicit photos of themselves.
Zahid Akram, 37, threatened to tell the girls' families or expose them online if they did not do what he wanted.
The teacher, formerly of Exeter, and now Worcestershire, pleaded guilty to four charges of blackmail and one of causing or inciting a 13-year-old girl to take part in pornography.
Akram will be sentenced on 14 November at Exeter Crown Court.
The father-of-two, who was employed as a science teacher at The Woodroffe School in Lyme Regis, Dorset, contacted the girls through the internet and persuaded them to pose in their underwear between September 2011 and November 2012.
He then threatened to expose the images unless they provided pictures that went "certain steps further".
He even messaged one terrified victim the first names of her parents and threatened to show them the pictures if she did not meet his demands.
'Unwarranted demands'
In a statement, Woodroffe School said Akram was "immediately suspended" and that they have been assured by police that none of the offences that led to his arrest had any connection with the school or the local community.
Judge Francis Gilbert QC remanded Akram in custody and adjourned the case for pre-sentence reports.
"These offences are very, very serious and they demand an immediate sentence of imprisonment," the judge said.
"This case involves blackmailing four young girls via the internet and in a very, very nasty way.
"He is a teacher, he is 37, he is an intelligent man. I regard these as very serious offences. He knew perfectly well what he was doing."
The charges state Akram made "unwarranted demands" for sexual images and money in the form of phone credit.
Lawrence Wilcox, representing Akram, told the court his client suffered from depression and was in £40,000 of debt.
Akram, from Redditch, was ordered to sign the sex offenders register.
'Dangerous, devious, manipulative'
Dr Richard Steward, headteacher of The Woodroffe School, said the school was contacted by the police in 2011.
"Following the initial phone call, Mr Akram was immediately suspended from his duties and sent home, pending further investigation," the statement said.
"Mr Akram did not return to school and resigned his post during the course of the investigation.
"The school's internal procedures have confirmed this and we are confident that Woodroffe students were completely safe during the period that Mr Akram was employed here."
Det Con Steve Harris said Akram was a "dangerous, devious and manipulative man" whose victims came from across the UK and ranged from teenage girls to women in their 30s.
"We recovered catalogues with over 100 women that he had been in contact with of all different ages, and they are just the ones that we have," he said.
"I suspect there are more but we don't know for sure."
He added that Akram's offending came to light after one of his victims who was being blackmailed "bravely" contacted police.
Officers were then able to track the 37-year-old down and seize his computer equipment.
It was after police arrested Akram in Devon that he moved to Worcestershire.