Fracking legal challenges planned by Greenpeace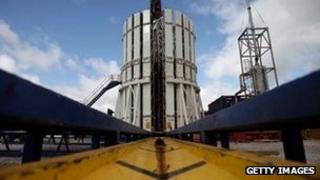 Greenpeace is planning legal challenges to try to stop companies from fracking in England.
The environmental campaign group wants to stop the controversial method of extracting gas from rock.
It claims home-owners have the legal power to refuse the companies permission to drill underground far beneath their properties.
Chief executive of Cuadrilla, Francis Egan, said the company was "confident" underground drilling was safe.
Opponents claim water used in the hydraulic fracturing, or fracking, process will be contaminated and could enter domestic supplies.
Greenpeace spokeswoman Anna Jones said fracking "is risky for local environments, risky for our water supplies and risky for the global climate".
"People are right to stand up and say 'Not under my land you don't'."
Greenpeace said a number of residents in areas of potential fracking sites, including Sussex and Lancashire, were joining the campaign.
'Livelihood destroyed'
Lawyer Kate Harrison said: "The common law on this is clear. If fracking companies don't seek and receive permission for drilling under people's homes they will be liable for trespass."
Eve McNamara, a resident who lives near a site in Lancashire said: "Fracking will be an absolute disaster for Lancashire. I hope sense will prevail and the industry will leave, so the north west can concentrate on renewable energy."
Andrew Pemberton, a Lancashire dairy farmer said: "I'm supplying milk to 3,000 households, and if for any reason my water became contaminated, my business would be ruined and my livelihood destroyed, as well as the livelihoods of the 16 families who work for me.
"Fracking is dangerous and short-sighted. We should be keeping this gas in the ground."
Mr Egan said: "All of our existing subsurface underground rail, water, gas, telecommunications and electric development has historically succeeded in legal coexistence with surface property rights.
"Newer technology such as geothermal energy and carbon capture and storage will also have to negotiate this.
"We are confident that new subsurface shale development that safely offers energy security, skilled jobs and community benefits will in due course be no different."
'Negotiate with landowners'
A Department of Energy and Climate Change spokesman said: "This is not a block to shale gas development in the UK.
"There is flexibility about where to locate a drilling rig to access any oil or gas resources.
"Like any other industrial activity, oil and gas operations will normally require the agreement of the landowners whose land is used. Oil or gas developers will negotiate with landowners as necessary and agree terms for the access they require."
Fracking is a technique where water and chemicals are pumped into shale rock at high pressure to extract gas.
It was temporarily banned in the UK after it was blamed for two earth tremors in Blackpool in 2011.
A government review has now concluded fracking is safe if adequately monitored.