Wareham gardener claims UK pumpkin weight record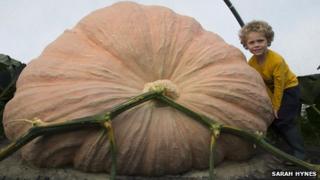 A gardener from Dorset has claimed a UK record for the heaviest pumpkin, following a national contest.
A weigh-in at the Jubilee Sailing Trust Pumpkin Festival in Netley, near Southampton, found Mark Baggs's pumpkin weighed 1,520lb (689kg).
Festival organiser Sonja Davison said the monster specimen was 16lb (7.3kg) heavier than the previous UK record.
Specialist lifting equipment had to be used to move the giant pumpkins for the event at Royal Victoria Country Park.
The previous record-holders, twins Stuart and Ian Paton from Lymington, Hampshire, also entered the contest but their 1,345 lb (610 kg) entry came second.
The record for the world's heaviest pumpkin was set on 15 October 2011 in Ontario, Canada.
The pumpkin, weighing 1,818lb and 5oz (824.86kg), was confirmed by Guinness World Records as the heaviest ever.
Mr Baggs, 30, of Wareham, grew his prize pumpkin in a polytunnel and said he dedicated almost all of his spare time growing it after sowing the seed on 13 April.
He once claimed the world record for the heaviest marrow, grown in 2005, weighing 136lb (62kg).