Model boat's second Atlantic crossing bid fails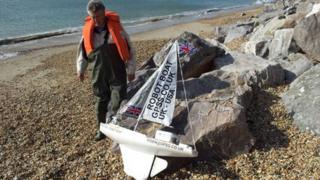 A second attempt to send a model boat across the Atlantic Ocean has failed within hours.
The 4ft (1.2m) boat, Snoopy Sloop, washed up on a beach on the Isle of Wight, east of Yarmouth, in the early hours.
It was launched on Friday by retired scientist Robin Lovelock at Barton-on-Sea in Hampshire.
The £450 boat was spotted and collected by a resident who plans to return Snoopy Sloop by ferry to the mainland.
Mr Lovelock said: "It sounds as if the boat is completely undamaged, and just needs some adjustment so, all in all, I'm a happy bunny."
Third attempt
He is taking part in the Microtransat Challenge in an effort to become the first person to send an unmanned vessel across the Atlantic from a point to the south of the Republic of Ireland.
Mr Lovelock, who developed the boat on Bray Lake near his home in Sunninghill, Berkshire, said he aimed to make a third attempt in November.
He said he would analyse the boat's movements during its latest voyage so changes "like the settings of sails, and rudder steering adjustments" could be made for the next attempt.
A Global Positioning System (GPS) computer has been designed to pilot the boat for the 5,000-mile (8,000km) journey.
It is estimated it will take the vessel about three months, sailing at a speed of 3mph (5km/h), to cross the ocean.