Avon and Somerset Police major reshaping proposed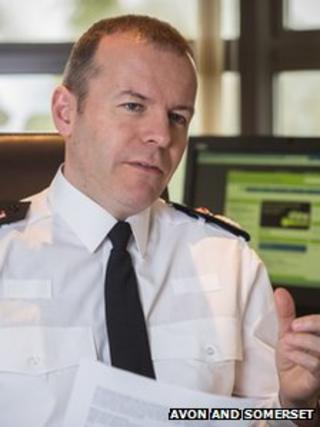 A major reshaping of Avon and Somerset Police is proposing more officers on the front line and the joining together of three crime units.
The force says it has recognised change is needed and is inviting views on its plans to reshape how it works.
It says the way it operates now is more costly and less efficient than it could be and some processes need an overhaul.
Chief Constable Nick Gargan said: "The way the constabulary does its business has not been reviewed for some time."
He added: "The fact that we will be taking delivery of several new buildings and critical new IT systems in 2014 - combined with the need to make yet further savings - meant that significant organisational change was inevitable. "
'Real appetite'
Staff and members of the public are being asked for their views on the plans until 26 October and a new operating model is expected to be agreed in December.
The "Invent the Future" proposals include having more officers on the front line.
A plan to join the response, neighbourhood and targeted crime units has also been suggested.
The force believes "neighbourhood managers" could be "the golden thread" to bring housing, health, probation and drugs workers together to tackle crime and support victims.
Ch Supt Sarah Crew is leading the programme and says there has been an "overwhelming" response from staff.
"We had 2,088 face-to-face contacts with staff, 1,486 suggestion cards, and a 16-strong team visited 49 locations and spent 588 hours listening to what people had to say.
"There's a real appetite to do things differently and better."