'Indiscriminate' shooting damages South West road signs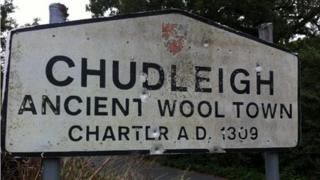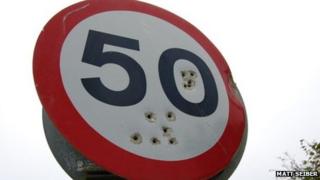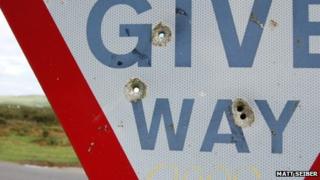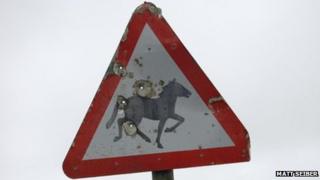 Photographs of road signs damaged by "indiscriminate" shooting in Devon and Cornwall have been published on a website.
Matt Seiber, a former Royal Marine from Buckinghamshire, said he took the "chilling" photographs over the summer.
The damage to one sign - for a hotel on Dartmoor - appeared to have been caused by a high velocity rifle, he said.
Devon and Cornwall Police said anyone with information about criminal damage to roadside signs should report it.
'Staggering amount'
Mr Seiber said as a "shooting sportsman" he found the safety implications horrific, which was why he had set up his Gunfire Graffiti website.
"I'm very familiar with the damage guns cause - and these have been done by rifles, handguns and shotguns," he told BBC News.
"My job as a corporate driving trainer has given me the opportunity to go to a lot of places in the UK and worryingly in the five years I've been doing this I haven't found anywhere there's not damage."
Mr Seiber said he was "staggered" to discover several damaged road signs on a relatively short stretch of road off the A30 in Cornwall.
"Maybe there are more instances in rural areas because people think they're less likely to get caught, but it really shocked me to find 13 shot-damaged signs over about a 15-mile area," he said.
In the Devon town of Chudleigh, the Chamber of Commerce and a local councillor are paying £500 to have a damaged sign replaced.
Town councillor Richard Keeling said he was "horrified" by the "50 small indentation shots and five or six large pot-shots" at the sign.
"I don't think it's a local person. Local people wouldn't do this, they are a good sort," he added.
'Clearly irresponsible'
Cornwall Council said it was not aware of a particular issue with damaged road signs.
Devon County Council also said it was not aware of a "widespread" problem.
However a spokesman said anyone who witnessed incidents should report it, adding: "Shooting at road signs is clearly irresponsible and there are serious safety implications."
Mr Seiber said it was impossible to say if there was a particular "type" who would cause the damage, although he hoped the perpetrators were not legal licence holders.
"I haven't really got a clue who'd do it, but it's nobody I'd like to share a pint with," he added.