Chinese firms drawn to West Midlands investment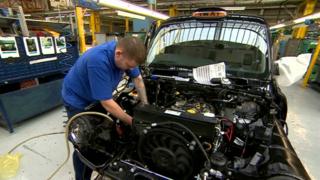 The West Midlands is fast becoming the first port of call for Chinese investors, following several high profile takeovers.
Many Chinese firms are looking to expand both their knowledge base and their global reach and manufacturers based here are seen as a good way of delivering both.
The first big take over came eight years ago, when the assets from the collapsed car maker MG Rover were bought by Nanjing Automotive.
Although car production at its former factory at Longbridge has restarted, it is now on a much smaller scale than before. However, research and development is much bigger, with more than 300 engineers designing cars for a global market.
The operation at Longbridge is effectively export expertise for a similar operation in China.
Manufacturing expertise
Senior Designer Carl Gotham maintains that it is not always easy because of the time difference between the UK and China.
"There's generally a window in the morning, when we hold video conferences or make telephone calls and exchange information about what's happened during the day in China," he said.
One of the most recent Chinese investments has been at the Coventry based London Taxi Company (LTI).
The old LTI went bust last year but it was bought by Chinese car maker Geely.
Even before the collapse the two firms worked together and had set up a production line in Shanghai.
Production Cell Leader Jurgen Krawetz was involved in the project and said there was a lot the UK could offer in manufacturing expertise.
"They were over the moon when we demonstrated how we do things in the UK and proved a solution to their problems. They were very very interested," he said.
Another big investment has come as a result of NVC Lighting, one of the biggest manufacturers of its kind in China.
It has set up a large warehouse and does some manufacturing in Rubery, in Worcestershire - drawn there because of the easy transport links and local manufacturers.
Global reach
However, the company's UK sales and marketing manager, James Hunter-Johnston, pointed out it was also about improving global reach.
"We have the ambition to be a globally known lighting brand. If we're going to do that we've got to have a presence in all the main markets of the world.
"Europe is potentially one of the biggest markets in the world and the UK is a good stepping stone for getting into the European market."
Experts are now predicting that investment levels will rise, with more and more Chinese firms coming to the UK and especially the West Midlands.
Most of the Chinese investment activity appears to be in the automotive sector.
The region has a reputation for advanced engineering capabilities and they are technologies that Chinese companies want to buy into.
In addition to MG Rover and LTI, a Chinese investor also bought the collapsed Birmingham van maker LDV.
It had developed a modern van concept and was moving into electric propulsion technology.
A van similar to the model built in Birmingham is now being made in China, using equipment formerly housed at the old LDV factory.
Experts believe the West Midlands offers good investment opportunities for yet more Chinese firms.
Qing Wang, Professor of Marketing and Innovation at Warwick Business School said: "The environment here for the Chinese companies is still very good.
"They like so many things that we have here and as long as we keep that going we should actually see more."
Increasing investment
According to Business Birmingham's Regional Observatory, the Greater Birmingham and Solihull enterprise zone saw an 88% increase in foreign investment projects in 2012-13, creating more than 2,000 new jobs.
Business Birmingham, which markets the second city to potential investors abroad, has targeted China as potentially one of its largest sources of investment, employing someone there to sell the West Midlands to the Chinese as a place to do business.
The inward investment from China and other countries is vital, especially when there's been a recession.
The funds can help kick start projects that have been halted by the downturn and help companies expand and create much needed new jobs.
Business Birmingham has experts based in China to "sell" the city to companies headquartered there.
It maintains that the size of the market and its economic potential, makes it one of Birmingham's key markets.
According to the Department for Business, Innovation and Skills, the value of Chinese investments across the country rose last year, with an increase in the number of new or safeguarded jobs as a result.
LTI is further evidence that China has a large role to play in the West Midlands.
Its new Chinese owners are looking to expand production and move into a new factory somewhere in the Coventry area.