Yorkshire diocese merger approved by Queen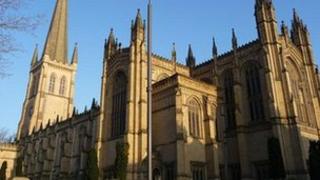 A merger of three church dioceses in Yorkshire will come into effect next year after the plans were approved by the Queen.
The dioceses of Ripon and Leeds, Bradford, and Wakefield will be dissolved and a new West Yorkshire and the Dales diocese formed at Easter.
The Queen gave her approval to the scheme when she met with her Privy Council on Wednesday night.
The first bishop of the new diocese is expected to be announced in February.
The Church of England believes the change will help address issues of declining congregations, reduced numbers of clergy, weakened finances and rising pension costs in the three existing dioceses.
The Archbishop of York, Dr John Sentamu, said the merger would "bring together the diversity and life of Bradford, Leeds and Wakefield".
The Right Reverend John Packer, Bishop of Ripon and Leeds, has previously said the number of people employed will be reduced over time but there is no immediate risk of job losses.