New model boat Atlantic crossing bid launched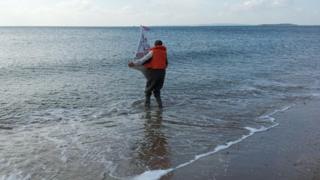 A man hoping to see his model boat become the first unmanned vessel to cross the Atlantic has made a new attempt after his first effort failed.
Retired scientist Robin Lovelock's 4ft (1.2m) boat, Snoopy Sloop, was launched from Barton-on-Sea, Hampshire, earlier.
It is a replica of the boat he used in November 2012 which hit trouble off the Isle of Wight after six hours.
Mr Lovelock, of Berkshire, believes it was snatched by someone, possibly a sea kayaker, and later released near rocks.
The replica of the 12kg (25lb), 1m-high (3.3ft) boat cost £450 to build and has been waiting for a "weather window" since spring.
In March, Mr Lovelock made two further attempts but they were aborted.
'Surprise' diversion
Mr Lovelock, from Sunninghill, has estimated it will take the vessel about three months, sailing at a speed of 3mph (5kmph), to cross the ocean.
A Global Positioning System (GPS) computer has been designed to pilot the boat for the 5,000-mile (8,000km) journey.
The attempt is part of the Microtransat Challenge to become the first unmanned vessel to cross the Atlantic from a point to the south of the Republic of Ireland.
Following its launch earlier Snoopy Sloop started heading south east towards The Needles which Mr Lovelock described as "a surprise".
He added it still had a "very good chance" of making the trip due to an computer software update on the vessel designed to change its course westwards if it gets too close to the Isle of Wight.
Mr Lovelock initially blamed a strong tide for pushing his first boat eastwards from Barton-on-Sea towards rocks off the the island.
But he later said he thought a third party may have seen the media attention surrounding the launch and paddled out to divert the boat as a "wind up" after following it online through its tracking system.
Mr Lovelock added: "He [Snoopy] might only survive for a few hours but if we see any diversion that we can't explain we will be taking photographs, and note of any boats we can see."