Christian hotel owners' wait for Supreme Court judgement in gay row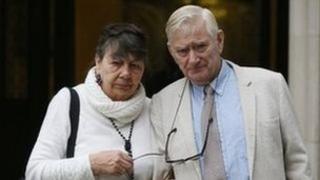 Christian guesthouse owners ordered to pay damages for turning away a gay couple have had their appeal heard in the UK's highest court.
Peter and Hazelmary Bull refused civil partners Steven Preddy and Martyn Hall, from Bristol, a double room in 2008.
Five Supreme Court justices presided over a two-day hearing and reserved judgement on whether the couple's action constituted sex discrimination.
The couple, from Marazion, Cornwall, have already lost two legal battles.
In 2011 a judge concluded the Bulls acted unlawfully and ordered them to pay a total of £3,600 damages after a hearing at Bristol County Court.
The case came to the Court of Appeal in 2012, but the Bulls' case was dismissed by judges.
The couple want the Supreme Court to overrule the Court of Appeal.
'Religiously-informed'
The Bulls say they think any sex outside marriage is "a sin" and deny discriminating against Mr Hall and Mr Preddy.
They say their decision was founded on a "religiously-informed judgement of conscience".
Mr Hall and Mr Preddy say they were victims of discrimination.
The couple phoned the guesthouse on 4 September 2008 to book a double room for two nights.
When they arrived the next day they were told they were not permitted to take the room, because double rooms were only allocated to married couples as opposed to those in civil partnerships.
Robin Allen QC, who represented the two men, told the Supreme Court: "They have lived a life for many years as two gay men in an established, long-term and committed relationship.
"They have received less favourable treatment compared to an opposite-sex couple who are married."
The Supreme Court justices will now consider the evidence before revealing their judgement at a later date.