How safe is street food?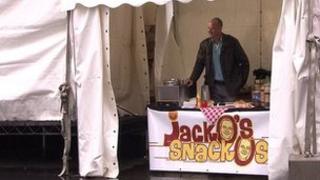 We all get seduced when walking around open-air stalls by the sights, sounds and of course the smell of fresh food being prepared.
With my formative years spent in Germany, I'm a sucker for the bratwurst stalls that pop up every now and again.
Personally I've never had a bad experience, unlike the 400 or so who fell ill during the Street Spice festival in Newcastle in February.
It turns out that raw curry leaves sourced from Pakistan had been contaminated with salmonella.
They ended up in a chutney and it was that which ruined an otherwise successful event.
Organiser Bob Arora still has nightmares about it and in this video he explains what the event was about and how things went wrong.
For our programme I set up a fake food stall with some pretty bad habits. My producer came up with the name Jacko's Snackos.
It's nice and downmarket, and despite my sales patter being deliberately unappealing I still managed to get a few people to peer into my emporium.
Of course I wasn't actually allowed to sell anything - or even give it away as I didn't have any proper qualifications or checks.
That should give us all confidence that any unhygienic rogue can't just set up shop.
What it doesn't mean, however, is that even a well trained stallholder or employee can't lapse into bad habits.
Hygiene scrutinised
We visited two open-air food events and saw lots of unwelcome behaviour by those handling food.
We tested samples and found eight out of 13 samples showed unsatisfactory levels of entero-bacteria.
Although it wouldn't make you ill, the levels present suggest bad hygiene.
While researching this film and talking to experts I've gathered some top tips to avoid an upset tummy.
Common sense plays a large part, but take a close look at the stall and the person serving - you can judge a lot from their appearance.
Do they have a sink and hand washing facilities? Is there a fridge to keep food fresh?
Are they potentially cross-contaminating food by handling money or a phone at the same time?
If you're in any doubt - keep walking.
Inside Out can be seen at 19:30 BST Monday, 14 October 2013 on BBC One in the North East & Cumbria and nationwide for the following seven days on the BBC iPlayer.