Trawler skipper injured by angle grinder off Eastbourne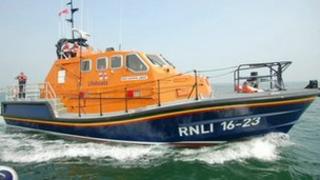 The skipper of a trawler that was fishing off the Sussex coast has been left with an "unpleasant" injury after using an angle grinder while on board.
The trawler was working 4 miles (6km) off Eastbourne at about 22:40 BST on Wednesday when a discarded anchor became caught in fishing gear.
The skipper injured his hand while using the grinder to remove the anchor.
He was treated on board by a paramedic on the Eastbourne lifeboat before being taken to hospital once back on shore.
The lifeboat had been launched after the crew asked Dover Coastguard for guidance about coming into an unknown port at low tide.
An RNLI spokesman said the skipper's injuries were "unpleasant but not likely to cause long term problems".