Daniel Pelka murder: Coventry protesters gather at council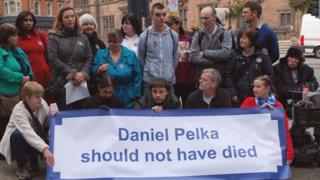 Protesters wanting justice for Daniel Pelka, who was killed by his mother and her partner, have demonstrated outside a council meeting.
Campaign group Prevent Child Abuse were at the Council House while councillors discussed a report on Daniel's case.
The group wants a law to be introduced which forces teachers and carers to report any signs of child abuse.
A serious case review concluded council employees, the NHS and police missed opportunities to help Daniel, four.
The meeting was the first time all 54 elected members of the council met to discuss the findings.
'Sacked and prosecuted'
Daniel was starved and beaten for months before he died in March 2012 at his Coventry home.
His mother Magdelena Luczak, 27, and her boyfriend Mariusz Krezolek, 34, were jailed for life after being found guilty of murder, at Birmingham Crown Court in July.
Paramjit Pooni, who travelled from Hampshire to be part of the protest, said she felt "very sad" about what had happened to Daniel.
"It was astonishing that no one picked up on what was happening and I firmly believe mandatory child abuse reporting is the way forward," she said.
Protestor Stuart Tollan, from Coventry, said: "I've never seen anything as disgusting as Daniel's case, eating out of bins and things like that.
"People should be sacked, dismissed and even prosecuted, they should be utterly ashamed of themselves."
The group's protest comes after figures showed one-third of councils previously judged by Ofsted inspectors to have child protection weaknesses are still failing to meet minimum requirements.
Questions have also been raised about the role of serious case reviews, in the wake of Daniel's case.