Christian hotel owners' Supreme Court case in gay row starts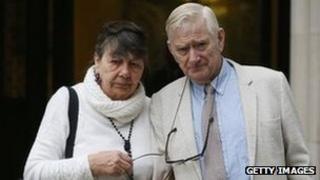 Christian guesthouse owners ordered to pay damages after turning away a gay couple have begun a legal fight at the Supreme Court.
Peter and Hazelmary Bull refused civil partners Steven Preddy and Martyn Hall, from Bristol, a double room in 2008.
The court will decide whether this constituted sex discrimination, under equality legislation.
Mr and Mrs Bull, from Marazion, Cornwall, have already lost fights in a county court and the Court of Appeal.
To stay faithful to their religious beliefs, they say any sex outside marriage is ''a sin'' and deny discriminating against Mr Hall and Mr Preddy.
Appeal thrown out
Mr Hall and Mr Preddy phoned the guesthouse on 4 September 2008 to book a double room for two nights.
When they arrived the next day they were told they were not permitted to take the room, because double rooms were only allocated to married couples as opposed to those in civil partnerships.
In 2011, a judge at Bristol County Court concluded the Bulls acted unlawfully and ordered them to pay a total of £3,600 damages.
The case came to the Court of Appeal in 2012, but the Bulls' case was dismissed by judges.
At the latest hearing, five Supreme Court justices will hear legal argument over two days and are expected to reserve a decision until later.
They were told the case was about the interaction between the "social demands of equality law" and protection given to individuals under human rights law.
'Consciences clear'
Aidan O'Neill QC, representing the Bulls, said their decision was founded on a "religiously-informed judgment of conscience".
"They believe the Bible to be God's word, which reveals God's perfect standards," he said.
"They take this responsibility very seriously and always strive to keep their consciences clear before God."
He said that if they are required by law to provide double-bedded rooms to people who are not in a monogamous opposite sex marriage, then, in order to remain faithful to their beliefs, they would need to stop operating their hotel and "withdraw from providing overnight hospitality to any section of the public".
Robin Allen QC, for Mr Hall and Mr Preddy, said the couple, who are in an "established, long term and committed relationship", had "received less favourable treatment, compared to an opposite-sex couple who are married".