Artist Graham Ovenden jailed after 'unduly lenient' sentence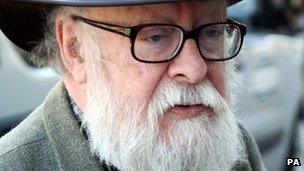 Internationally-renowned artist Graham Ovenden has been jailed after his suspended sentence for child sex offences was found by the Court of Appeal to be "unduly lenient".
Ovenden, 70, of Bodmin Moor, Cornwall, has had his sentence increased to two years and three months in custody.
In June, he was given a 12-month term, suspended for two years.
He was convicted at Truro Crown Court of six counts of indecency with a child and one of indecent assault.
After his trial, Ovenden was cleared on three counts of indecency and two of indecent assault.
He was accused of abusing children, as young as six, who posed for his paintings in the 1970s and '80s at his studio in Cornwall and former home in Hounslow, west London.
The sentence was referred to the Court of Appeal by Attorney General Dominic Grieve and reviewed by Lord Chief Justice Lord Thomas, sitting with Mr Justice Henriques and Mr Justice Blake.
Lord Thomas, who said Ovenden had not shown a "shred of remorse" for his victims, ruled the sentence passed at Plymouth Crown Court should not have been suspended and imposed the prison term.
The judges rejected the defendant's claims that his interest in young girls was artistic and not sexual.
Lord Thomas said the girls had "no understanding of the true purpose" behind what Ovenden was doing.
"There was no doubt that his purpose was sexual," he said. "There is no doubt that he had a sexual interest in children."
He added Ovenden's reputation as a landscape artist enabled those who were closest to the children to trust him.
The judges heard a bid by the defendant, who denied abusing his subjects, to challenge his conviction.
He had previously admitted taking the pictures of children, including those in various states of undress, but claimed they were not indecent.
The court rejected his application for permission to appeal, ruling the verdicts were "safe".
Lord Thomas said the court had seen victim impact statements in which they described how giving evidence at Ovenden's trial was the worst experience of their lives.
When suspending the prison term, the sentencing judge Judge Graham Cottle said he took into account Ovenden's age, the length of time since the offences, and his "steep fall from grace and irretrievably tarnished reputation".
But it was argued on behalf of the Attorney General that "reputational impact" was not a reason for suspending the sentence.
Lord Thomas said Ovenden had shown "no contrition", maintaining that he had done nothing wrong.
Following his trial, Ovenden had claimed he was the victim of a "global witch-hunt against artists".
"He seeks to blame others and asserts a conspiracy against him," Lord Thomas said.
"It is self-evident he has no understanding of the very serious harm he has done to the victims by his serious criminal misconduct.
"He still asserts that art is being put on trial. That is nonsensical bearing in mind the facts."
Speaking after the hearing, Mr Grieve said: "Graham Ovenden committed terrible sexual offences against vulnerable young girls who were in his charge and ought to have felt safe. He manipulated them and abused his position of trust.
"The Court of Appeal agrees that the 12-month suspended sentence handed to him was unduly lenient, and I am satisfied they have replaced it with 27 months' custody.
"It is right that sexual crimes, whether committed many years ago or more recently, should be punished appropriately."
Following Ovenden's conviction, the Tate removed more than 30 prints from its online collection.
Related Internet Links
The BBC is not responsible for the content of external sites.