Stafford Hospital trust guilty over Gillian Astbury insulin death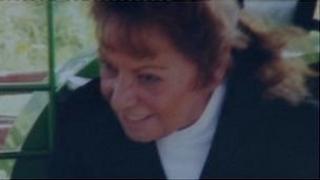 The Mid Staffordshire NHS Trust is facing a large fine after it pleaded guilty to safety breaches over the death of a diabetic patient.
Gillian Astbury, 66, died at Stafford Hospital in April 2007 after two nurses failed to give her insulin.
Ann King was struck off and Jeannette Coulson was cautioned after a Nursing and Midwifery Council panel found them guilty of misconduct in July.
The trust will be sentenced at Stafford Crown Court at a later date.
It had pleaded guilty at Stafford Magistrates' Court to failing to properly manage and organise hospital services including its systems for record keeping and sharing patient information between staff members.
Magistrates ruled their sentencing powers for the offence were insufficient because they could only impose a maximum fine of £20,000.
They decided the trust should be sentenced at the Crown Court, where it will face an unlimited fine.
Chairman of the bench Ian Jones told the court: "The defendant's actions fell well short of the expected standards over a substantial period of time.
"The bench have considered both the public interest arguments and the financial arguments put forward."
The court heard that the Mid Staffordshire NHS Trust was running an annual operating deficit of about £11m.
It became the first foundation trust to go into administration in April.
The NHS Litigation Authority, which provides indemnity cover for legal claims against NHS Trusts, said Mid Staffordshire's insurance would not cover a fine from the HSE.
It said it would have to find the money from its own budget.
'Entirely preventable'
Ms Astbury, from Hednesford, Staffordshire, died after going into a diabetic coma on 11 April 2007 while being treated for fractures to her arm and pelvis.
In a statement released after the hearing, her full-time carer Ron Street said the prosecution afforded a "small measure of justice to Gillian."
He said: "The financial fine of the trust is not the issue, as whatever the level of the fine it will only hinder the hospital which is otherwise trying to get back on its feet.
"My overwhelming concern is that the senior members of the trust board, who were responsible for implementing this system of unsafe work at the hospital whilst Gillian was in their care, have never been held to account.
"Today's acknowledgement of guilt by the trust does little by way of justice against those individuals who permitted such unsafe practices to continue for so long."
The criminal prosecution was brought by the Health and Safety Executive (HSE) three years after an inquest jury ruled that Ms Astbury's death was caused by low staffing levels and a failure to provide adequate nursing facilities.
The inquest also found that the failure by nurses to administer insulin amounted to a gross failure to provide basic care.
Peter Galsworthy, from the HSE, said Ms Astbury's death was "entirely preventable".
He said: "The trust's failure to implement a robust and consistent process cost the life of a vulnerable patient in the trust's care....and it will now be for a Crown Court judge to determine sentence."
The Mid Staffordshire NHS Trust said it "fully accepted the decision" to refer the case to the higher court.
Chief Executive Maggie Oldham said: "Our thoughts remain with the friends and family of Gillian Astbury and we apologise for the dreadful care Ms Astbury received at Stafford Hospital in April 2007.
"Although of little consolation to Ms Astbury's family, we can assure them we have done everything we can to put those things right which went so very wrong in 2007 and that the standard of care now provided at the hospital has improved considerably over the last few years as has been recognised by many independent organisations and individuals."