Has East Midlands won in latest government reshuffle?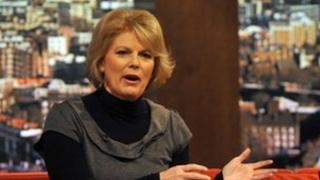 I've been nudged by Anna Soubry, but in possibly the nicest way.
She was prompting me on the ministerial changes. Only last week, I was reporting on calls by the Broxtowe MP and her East Midlands colleague Nicky Morgan for the promotion of more women in politics.
And on cue, both David Cameron and Ed Miliband have made headline catching changes to their teams that have given women higher profile roles.
They've also ensured the East Midlands has its regional voice heard loud and clear in government.
After a spell in the government whips' office, the Loughborough MP Nicky Morgan is now economic secretary to the treasury.
"Like all new jobs, getting from the lift to the office without getting lost is first task!" she said on Twitter.
Ministerial revolving doors
South Leicestershire's MP Andrew Robathan swaps the Ministry of Defence for the Northern Ireland office.
And in a case of ministerial revolving doors, Anna Soubry is going to the MoD.
She certainly made an impact as a health minister and now becomes the first female minister at the MoD.
There's also a useful match here - her Broxtowe constituency is home to the Reinforcements Training and Mobilisation Centre (RTMC), at Chilwell-based Chetwynd Barracks.
The RTMC prepares all branches of the reserve forces and civilians for service with the regular forces.
"As a proud supporter of both Chetwynd Barracks and Beeston Royal British legion, I am aware of a number of the issues facing the Armed Forces, and I look forward to taking these local experiences into this very important role," she said.
At cabinet level, the East Midlands still has its place at the top table. The Derbyshire Dales MP Patrick McLoughlin remains as Transport Secretary. Any sign of his removal would have kick-started speculation that the HS2 rail project was doomed.
Rushcliffe's Ken Clarke, who told me: "I am genuinely surprised to find myself still in government"- is still in government. He remains minister without portfolio, no doubt continuing to offer the prime minister and the chancellor of the exchequer his vast experience in government.
The Labour changes were also eye catching.
Gedling's Vernon Coaker is now shadow defence secretary, moving from his previous role shadowing the Northern Ireland brief.
"I'm looking forward to new challenges but I'll miss Northern Ireland. Great place and great people," he tweeted.
There's also a shadow cabinet place for Ashfield's Gloria De Piero. Her brief is now women and equalities.
Like Vernon Coaker, and unlike Diane Abbott, she will be regarded as a "safe pair of hands"- maybe it's something in the Nottinghamshire water.
Nottingham East's Chris Leslie remains part of Ed Balls' treasury team. He's now shadow chief secretary to the treasury, replacing Rachael Reeves.
Leicester West's Liz Kendal retains her shadow cabinet position looking after care and elderly people.
Considering these changes were supposed to be low key, the East Midlands has done pretty well, especially for the promotion of its women MPs.