A14 Cambridgeshire toll opposed by two Suffolk councils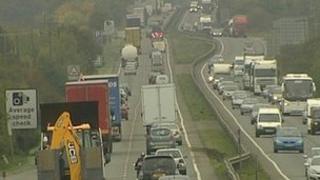 Two councils in Suffolk are pledging support for a campaign against government plans for a toll road to relieve congestion on the A14.
Leaders at St Edmundsbury and Forest Heath councils claim the tolls would hit economic growth and job creation.
Improvements to the road would help the local economy but councils believe a toll would harm enterprise.
The councils said they would back Suffolk Chamber of Commerce's "No Toll Tax on Suffolk" campaign.
Tolls would make it tougher for local companies to compete with other areas in the country which are toll-free, councillors John Griffiths of St Edmundsbury and James Waters of Forest Heath said in a joint statement.
They said: "While we support improvements on the A14, the Toll Tax seems flawed and short-sighted at a time when we're trying to boost our economy and encourage growth.
PM backs tolls
"Forcing businesses to pay tolls to improve the road in only some areas, especially when there are no viable alternative routes, will simply encourage them to use other ports and road systems, to the detriment of our local economy.
"It also seems to be promoting unfair competition for our local businesses, not being a tax that other parts of the country have to face."
The councils also object to the improvements being restricted to just one section of the A14 in Cambridgeshire.
The Highways Agency is currently consulting until 13 October on the proposed improvements aimed at relieving congestion on the road, which goes from the Port of Felixstowe through Suffolk, Cambridgeshire, Huntingdon and Northampton to link with the M1.
Conservative-run Suffolk County Council has pledged £1m towards building the £1.5bn new road south of Huntingdon.
The council's Labour group said a toll would be bad for businesses in Suffolk.
Prime Minister David Cameron backs the toll road and has previously said: "People who are going to benefit... should pay something towards it."