Lord Howell North East fracking slur 'wilfully misinterpreted'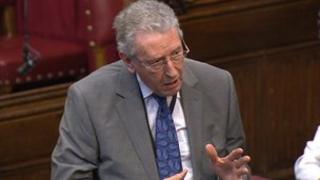 A Conservative peer who described parts of the North East as "desolate" and "uninhabited" has said during a visit to the region his remarks were misunderstood.
Lord Howell caused outrage with his comments earlier this year.
He said the region would be a good area for the controversial process of fracking - the extraction of gas from shale rock - as it was so remote.
The peer later apologised, claiming he had meant to say the North West.
Speaking during a visit to Durham, Lord Howell - the father-in-law of Chancellor George Osborne - went further, saying his comments had been wilfully misinterpreted.
'Minor earthquakes'
He said: "The way they were reported, and frankly distorted, did of course cause controversy.
"But no, I was making a perfectly sound point that the north, the north west and north east, are of course the areas which pioneered the industrial revolution.
"They have left localities and sites which need reclamation and restoration.
"It does look as though a great deal of the possible shale gas resources two or three miles down are in the northern areas."
Lord Howell said he did not want to see fracking take place where it was not wanted, but he said the process could bring benefits.
"As it produces employment, as it produces jobs, as the technologies and skills are in the northern areas, and people want it, and it can restore areas that have been scarred, then it makes sense to bring the jobs and prosperity to people.
"I'm sure people want more work and they want prosperity."
Hydraulic fracturing, or fracking, is a technique designed to recover gas and oil from shale rock.
There are worries that the fracking process can cause small earth tremors. Two small earthquakes of 1.5 and 2.2 magnitude hit the Blackpool area in 2011 following fracking.
Newcastle Green Party chairman Sandy Irvine said: "There are major disadvantages with fracking. And if we do go down that road, we do not go down the road we need to travel, which is energy conservation and a switch to renewables.
"If you put your eggs in one basket - and I think fracking is a very dangerous basket - you're not doing the right things."
But supporters say it is safe and essential to making the UK more energy self-sufficient.