Robbery gang accused 'hired bouncy castles'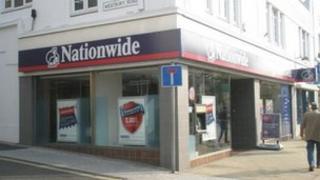 A man accused of being part of a robbery and burglary gang has said he only visited a farm, alleged to be the gang's base, to collect bouncy castles.
Richard Loveridge told jurors he went to the farm near Windsor twice in 2010 to collect the items for children's parties from a business based there.
Prosecutors allege the gang stole from banks, homes and businesses.
Four men deny charges of conspiracy to commit burglaries and robberies across Hampshire and Berkshire.
The court was shown a holdall found at Mr Loveridge's home, containing balaclavas, gloves and three black jackets.
Mr Loveridge said he was a "motorcycle nut" and the items were used for motocross sessions with friends and family members "every weekend".
"It's something I've been into for years, I've always loved motocross bikes," he said.
'Offload cannabis'
When asked by the defence counsel about a Rolex watch worth £4,200 that Mr Loveridge bought for his partner's 21st birthday, he said he had "saved up a bit of money from buying and selling cars".
The court heard Mr Loveridge had admitted growing cannabis in a shed at his home.
He said the 20 plants provided an income.
On the night of a robbery at a building society in Farnborough on 9 January 2012, he told jurors he had been at a gym in Frimley and later phoned a customer to "offload some cannabis".
Asked whether he was involved in any of the robberies or burglaries, Mr Loveridge replied "no".
Prosecutors allege the gang carried out crimes at shops in Basingstoke and Reading, as well as raids in Farnborough, Havant and Fareham, between August 2011 and January 2012.
Stewart Last, 29, from Windsor, and Richard Loveridge, 28, and Andrew Smith, 27, both from Slough, are alleged to have carried out the robberies and burglaries.
A fourth man, 38-year-old Lee Fitzgerald, from Windsor, has been described as a facilitator - providing a base camp for the gang at the farm near Windsor.
Under cross-examination, Mr Loveridge was asked what he, Mr Smith and Mr Last had in common.
He replied: "We've got a lot of things in common - our general life, we're mates."
James Newton Price, prosecuting, referred to mobile phone records on the day of a robbery at the Nationwide, Havant, which showed their phones connected to the same masts and calls between the three men.
There then followed more than 17 hours of phone inactivity.
Mr Loveridge said he could not remember the reasons for the calls or the inactivity.
The men are alleged to have stolen £240,000 in cash from banks and building societies, expensive cars worth a total of £200,000 and £110,000 of cash and stock from shops and houses.
The trial continues.