Servicemen to take on 50-day rowing challenge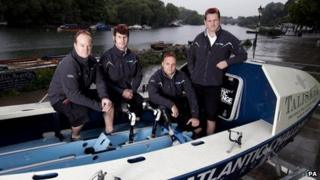 A group of servicemen, two of whom lost limbs in Afghanistan, is to spend about 50 days at sea in a rowing race.
The four-man Row2Recovery team will sail from the Canary Islands to Antigua, in the Talisker Whisky Atlantic Challenge.
Injured Cayle Royce and Scott Blaney will be joined by fellow servicemen James Kayll and Mark Jenkins to raise money for Help For Heroes.
They sail on 2 December and hope to arrive in late January.
The team includes Trooper Royce, from the Light Dragoons, who was severely injured last May when he stepped on an improvised explosive device (IED) while serving as a sharpshooter in Afghanistan.
'Level-headed crew'
The 27-year-old, from Dartmouth, Devon, lost both legs above the knee, had several fingers on his left hand amputated and suffered neck trauma and facial scarring.
The keen outdoorsman has already been skydiving since his injury and taken up mono skiing, hand cycling and sea kayaking.
He said: "I get bored too easily, I have to keep moving. I think getting out and getting involved is a huge part of rehabilitation.
"I'm not nervous or worried about the row itself, I think it'll be just fine. We have got excellent support and a very level-headed crew."
Also taking part is 27-year-old Corporal Blaney, from Nuneaton in Warwickshire, who had his right leg amputated above the knee after an IED blast in 2007.
Cpl Blaney, who serves with the Grenadier Guards, has run three marathons and has swam the English Channel.
Freeze-dried food
He said: "It is so important because now Afghanistan is finishing there's probably not going to be another tour for the next few years.
"We don't want people to forget what we went through and what we did for our country."
Also rowing is 34-year-old Captain Mark Jenkins, a physiotherapy officer with the Royal Army Medical Corps from Brighton and team leader, 31-year-old Captain James Kayll from Blandford, Dorset.
Rowing for two hours on and two hours off, they will live on freeze-dried food, battling severe weather conditions as well as physical challenges.
Last year a six-man Row2Recovery team raised £1m for wounded soldiers after completing the 3,000-mile (4,828km) feat in 51 days.