Coventry taxi maker LTC sends white cabs to Australia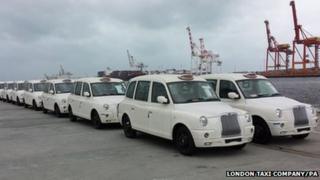 Nearly 100 London cabs have been sent to Australia, but painted white rather than black.
The Coventry-based London Taxi Company has exported 98 ex-demonstrator TX4 taxis to Perth where they will be used on a trial basis over the coming weeks.
If successful, more will be ordered, with the state of Victoria expected to be the next area to take the cabs.
It is one of the first orders to be fulfilled since production restarted in September at a factory in the city.
Previously known as LTI, the firm went into administration in October 2012 and was bought by Chinese firm Geely.
Ex-pats involved
The company's chief executive Evan Simeon said the response had been "phenomenal".
He said: "One Perth operator who purchased a fleet of the 50 bright, white, used TX4s has already had a stampede of drivers who want to be the first ones to buy a cab and partake in the trial.
"We've had a lot of positive interest from ex-pats, both prospective customers and drivers.
"What has been especially gratifying are the offers from ex-pat London Taxi drivers who not only want to buy one, but have also offered their services to train our Australian drivers on everything from the service to vehicle operation."