East Midlands Ambulance Service to display 999 warnings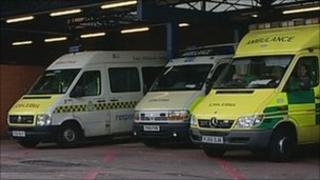 East Midlands Ambulance Service (EMAS) is to put adverts on vehicles to warn people about making unnecessary calls.
The campaign is aimed at educating people to make emergency calls only for conditions such as cardiac arrest, severe blood loss and choking.
EMAS said people dialling 999 unnecessarily put extra pressure on the system when seconds counted.
In 2012-13, EMAS responded to 616,000 emergency calls - only about 40% were for life-threatening incidents.
Peter Bainbridge, EMAS paramedic and clinical lead for Derbyshire, said: "It's important that people know when to call 999 and when another NHS service is more appropriate.
"The adverts we are putting onto our ambulances act as a visual reminder that we are an emergency service and that means our priority is always to respond to people who are reported to be in an immediately life-threatening condition."
In 2012 in Lincolnshire, several cases also highlighted the problem of hoax and "inappropriate" 999 calls.
The service said calls included somebody who wanted help defrosting a turkey and another who wanted to give staff a Christmas card.