A14 Cambridgeshire toll sparks Labour opposition in Suffolk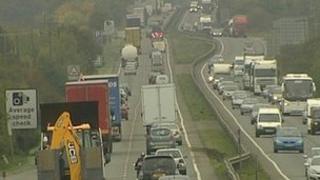 Labour politicians are urging a council not to contribute to the new A14 project in Cambridgeshire if it is going to be a toll road.
Conservative-run Suffolk County Council has pledged £1m towards building the £1.5bn new road south of Huntingdon.
The council's Labour group said a toll would be bad for businesses in Suffolk.
The Conservatives said the financial support was "essential" but they would work with businesses to pressurise the government to drop the toll.
The government's proposal is to charge £1-£1.50 for cars and £2-£3 for lorries on the new stretch to help fund the new section connecting Cambridge to the A1.
'Tax on Suffolk'
The road runs from the Port of Felixstowe in Suffolk to the M6 in Northamptonshire.
Councillor Sandra Gage, Labour's roads spokesperson, said: "As the only trunk road between Suffolk, Felixstowe port and the majority of the UK, the A14 is a vital link for the county's economy and population.
"We don't think Suffolk residents and businesses should be forced to fund the access to Suffolk through tolling, so we call on the [Conservative] administration to withdraw the offer of the £1m until this tax on Suffolk is stopped."
Conservative councillor Graham Newman, member for roads and transport, said the cabinet decision to contribute £1m was made "in the full knowledge that the government was proposing tolling the road as part of its overall funding plans".
Supporting the proposed upgrade financially was essential, he said, to ensure the plan would be delivered in the government's current spending round.
However, he added: "Businesses and councils alike are working with Suffolk's MPs to maintain pressure on the government to drop the tolling proposal, particularly for HGVs, so this county's port and logistics industries can compete on a level playing field with new entrants to this sector elsewhere in the UK."
The ruling Conservative group is due to consider the Labour motion at a full Suffolk County Council meeting on 24 October.