Amanda Hutton jailed for Hamzah Khan killing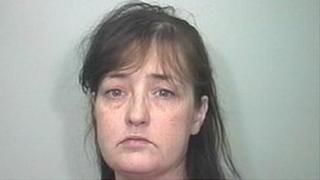 A mother who allowed her four-year-old son to starve to death and left his decomposing body in a cot for nearly two years has been jailed for 15 years.
Alcoholic mother-of-eight Amanda Hutton was convicted of the manslaughter of Hamzah Khan, who died in December 2009 due to severe malnutrition.
His mummified remains were found in squalid conditions at their Bradford family home 21 months later.
The judge said Hutton posed a "real danger" to children.
'Wicked conduct'
Roger Thomas, the Recorder of Bradford, said she had shown a "terrible failure to fulfil the most basic responsibility; in short you starved Hamzah to death".
On keeping Hamzah's death a secret, the judge said Hutton was "worried that people would find out you killed him".
He told her: "Your deviousness was to keep various agencies away from you and your children.
"Your wicked conduct has been displayed in such awful detail."
Hutton had previously admitted the neglect of Hamzah's five siblings, who also lived at the house and were aged between five and 13 in 2011, and preventing the burial of Hamzah's body.
The boy's body was found after an inexperienced police community support officer became concerned about children at the house while she was investigating reports of soiled nappies being thrown into a neighbour's garden.
Knife threat
Officers who later found Hamzah were also faced with an overwhelming smell coming from ankle-deep rubbish in the house, including vodka bottles and rotting food.
Hutton's eldest son, Tariq Khan, 24, also admitted preventing Hamzah's burial and received a two-year jail sentence, suspended for two years.
The judge heard earlier that Hutton had told Khan not to tell anyone about Hamzah's death or she would kill his siblings.
Khan told probation officers how his mother held a knife to the throat of one of the children two days after Hamzah's death, the court heard.
He also said his mother threatened to burn down the house.
The judge was also told that one of Hutton's neighbours alerted social services to her concerns about the family in March 2011, but her actions did not result in Hamzah's body being found.
Paul Greaney QC, prosecuting, said the woman had observed children crying and not being comforted, threatening voices towards the children, blinds never being open and children not playing outside.
Mr Greaney told the judge the history of what happened after those concerns were raised was "complex", but social services, education services and the police "were all involved to a greater or lesser extent".
He said a serious case review into Hamzah's death and the involvement of the relevant agencies with the family was under way.
The prosecutor said whatever was or was not done by those agencies "should not detract from the shocking and disgraceful conduct of Amanda Hutton involving six of her children".
"She killed Hamzah, no-one else," he said.
Hutton showed no emotion as she was led from the dock.
Following Hutton's sentencing, Hamzah's father, Aftab Khan, said his son's death could have been prevented if police and social services had heeded his warnings.
Mr Khan said he was ignored when he asked the authorities to check on Hamzah's condition.
Friend of the family Maria Hodgson, who was at Bradford Crown Court for the sentencing, said what had happened was "so sad".
"It's so bad that this has happened to her and the whole family, really.
"I saw a lot of love from her to her children. Something must have happened to her."
Hutton was jailed for 12 years for manslaughter and three years for child cruelty to run consecutively.
She was also sentenced for two-and-a-half years for preventing the lawful burial of a child, to run concurrently.