East Midlands rail dispute suspended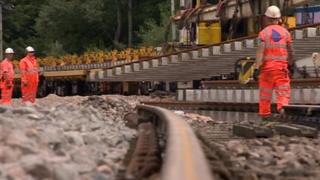 Rail workers in the East Midlands have suspended industrial action against East Midlands Trains (EMT) following talks over work patterns.
Members of the RMT union have refused to work overtime in a three-month-long dispute over alleged bullying of staff and changes in shift patterns.
RMT spokesman Bob Crow said the union backed a proposal from the company.
An EMT spokesman said the move followed "constructive discussions between the two sides over a number of issues".
'Last-minute disruption'
Clare Burles, human resources director for EMT, said: "We're pleased that our passengers no longer have to face the threat of last-minute disruption as a result of the RMT's unnecessary action.
"We have been in discussion with the RMT for several months about their dispute and actually put an offer on the table back in July which is broadly similar to the one which has been recommended for acceptance by the RMT's executive."
Work on the signalling and tracks has finished and shifts had returned to normal, according to the EMT spokesman.
About 140 RMT members have been working to rule since July partly as a result of changed working patterns caused by the closure of five-week Nottingham station over the summer.
Mr Crow said: "The union's executive committee has decided to suspend the industrial action and conduct an immediate referendum on the company's proposals."
The union, which represents train managers and senior conductors, had claimed earlier there was a "culture of bullying, harassment and victimisation" in the company, leading to a breakdown in industrial relations.
The EMT said previously that the dispute had been "invented" by the union.