Impaled man thanks life-saving air ambulance crew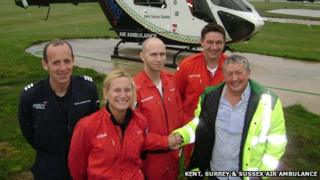 A man who was impaled on to a blunt metal spike when he fell 10ft on a farm has thanked the medical team who helped save his life.
David Johnstone, from West Sussex, was strapping hay bales on to a trailer when he slipped and fell to the spike on the back of a tractor.
The spike penetrated his chest, narrowly missing his vital organs.
Paramedics and an air ambulance crew carried out emergency treatment at the scene.
Mr Johnstone, a masonry consultant from Warnham, was helping a friend on a farm in West Chiltington in July when the accident happened.
Speaking of his ordeal, the 53-year-old said: "I took a couple of steps and fell over so the people I was working with took me over to a bale and I slumped over it.
"I saw blood coming out of my chest and arms and every breath I took was smaller than the previous one because one of my lungs had collapsed.
"I was in absolute agony and thought I was going to die, it was terrifying."
He said if he had fallen two inches or more either way, he would have died.
'Wouldn't be here'
South East Coast Ambulance Service paramedics Peter Davis, Lewis Allam, Christian Clarke and Laura Benham called the Kent, Surrey and Sussex Air Ambulance and gave Mr Johnstone oxygen and pain relief.
Pilot Mark Howard-Smith then landed in the field with colleagues John O'Neill, Emily McWhirter and Charles Leahy and they performed a chest drain - normally performed in hospital - to help his breathing.
Dr O'Neill said: "There was a hole in his chest which was sucking in air every time he breathed, causing his lung to collapse and making his blood pressure dangerously low.
"It was clear he was deteriorating rapidly and needed urgent surgery to fix the problem which could not wait until he got to hospital."
Mr Johnstone was airlifted to the Royal Sussex County Hospital in Brighton and spent six days there.
The father-of-two, who has almost made a full recovery, recently met the helicopter crew to thank them.
He said: "When the air ambulance arrived I thought it must be quite serious but I wasn't aware of the level of expertise and equipment on board.
"Now I know that's what made the difference and I wouldn't be here today otherwise.
"I just wanted to say thank you in person because one of the most valuable things you can give is your time."