US budget deadlock closes Cambridge and Woking cemeteries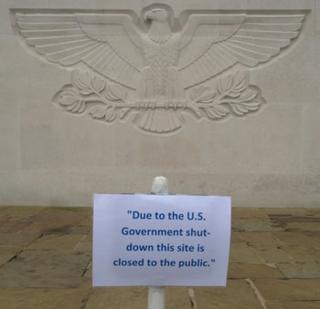 Visitors have been turned away from the American cemetery in Cambridge after it was forced to close because of the US government budget deadlock.
The US government has partially closed down and many government-funded venues have also closed because of the issue.
The American Battle Monuments Commission (ABMC) has closed all its memorials "due to a lack of funding".
The ABMC's only UK cemeteries in Madingley, Cambridge, and Brookwood in Woking, Surrey, are officially closed.
On its website, the ABMC said: "Due to a lack of funding for ABMC operations [the US government shutdown], ABMC cemeteries and memorials are temporarily closed.
"We regret any inconvenience these temporary actions may cause.
"ABMC will resume normal operations when a new funding measure is passed by the US Congress and signed by the President of the United States."
The organisation maintains 24 cemeteries around the world, 11 of which are in France.
A spokesman confirmed all were officially closed.