Badger cull police arrest woman in Gloucester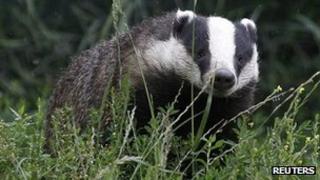 A 34-year-old woman has been arrested in Gloucester as part of an operation to police the badger cull trial.
The woman was arrested just after midnight on suspicion of breaching an injunction, after reports that a vehicle had been followed, police said.
It is the first arrest under an injunction granted to the NFU which prevents protests taking place near the homes and businesses of those involved.
The arrest was made in order to prevent harassment, a police spokesman said.
The woman remains in custody, a spokesman for Gloucestershire Police added.
The six-week trials in Somerset and Gloucestershire aim to kill about 5,000 badgers to test whether culling can be carried out in a safe, humane and effective way.
Opponents have held overnight patrols to disrupt the cull which they argue is inhumane and ineffective.