West Mercia and Warwickshire Police merger 'inevitable'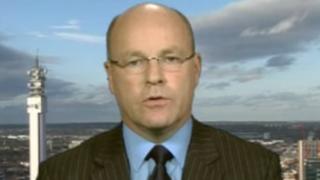 A merger between West Mercia and Warwickshire Police is now "inevitable", a police federation chairman has said.
Ken MacKaill was speaking after the two forces launched their alliance on Monday.
The alliance means officers from both West Mercia and Warwickshire now share the same control room and are covering a patch of 3,000 square miles.
But both forces have insisted they will retain their identity "at present".
"My own view is that in the future it is inevitable the two forces will have to merge completely," said West Mercia Police Federation chairman Mr MacKaill.
'Individual identities'
"The two forces are now so closely interlinked, there will be more savings to be made by going that one step further.
"But it will not happen for another two or three years."
At the moment each force has its own chief constable but Mr MacKaill said he was confident there would eventually be just one.
But a spokeswoman for the forces insisted there was "no plans at present" for a merger between Warwickshire Police and West Mercia Police.
"Our present focus is on delivering the alliance, which has virtually all the benefits of a merger without losing the individual identities of the two forces," she said.