Ray Mears reveals role in manhunt for killer Raoul Moat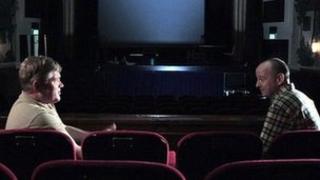 It was a closely guarded secret at the time. Northumbria Police, under intense pressure to find on the run killer Raoul Moat, brought in expert tracker Ray Mears to try and flush him out.
As Ray Mears told me in his first in-depth TV interview about the events in Rothbury, not all of the officers welcomed his involvement.
Some worried his celebrity status would, at best, be a distraction and at worst, make him a possible target for a gunman on the loose.
To get a real sense of what went on, out of sight of the public gaze, I've included a longer extract of my interview with Ray Mears below.
Initially it was suggested that armed officers should go ahead of the tracking expert to protect him.
That of course would have meant the police would be trampling all over the very scene he wanted to inspect for signs of Moat's movements.
Reading the signs
Clearly that wasn't going to work, so as a compromise he would lead, but if the area ahead was not easily visible, dogs would be sent in to scout out the land lying before them.
Ray says he "signs". He spots disturbances, but looks also for clues as to when it happened.
He can tell if a stem of the smallest of plants was broken, minutes, hours, or days ago.
All of this is imperceptible to untrained eyes - even the armed officers from the Met who are more used to tracking down their target in urban areas.
What surprised him most was their attitude to their prey.
Even though Raoul Moat had gunned one man down and blinded a fellow policeman, the officers only ever talked about the killer they were hunting as "Mr Moat".
Undercover operation
Ray Mears told me he was deeply impressed by the police, even though there was plenty of criticism at the time, including from the media.
His priority was not to be spotted by the press, as he knew Raoul Moat was listening to radio news bulletins and he wanted to retain the element of surprise.
When he left Rothbury police station Mears was dressed head to toe like the other police officers and he managed to avoid anyone recognising him.
As he made clear in our chat, he'll never know if he was responsible for flushing Moat out into the open, but he believes he and the search team were within 20 metres of him.
Before Raoul Moat finally turned his gun on himself, he told negotiators he'd seen the dogs.
All of this had been kept under wraps, but Ray Mears wrote about his involvement in his autobiography My Outdoor Life which has just been published.
He denies that it is in any way profiteering from what was one of the most high profile police operations in recent years.
Ray Mears says he never spoke about it at the time, but there have been lies told about the events and he simply wants to tell the story so that it is honestly and accurately reported.
He maintains that people should remember this was a tragedy for everyone involved.
He says it was a tragedy "for the victims who were killed, subsequently died or were maimed, for Rothbury that will always have a taint that it doesn't deserve, for the police, the taxpayer, and ultimately it was tragedy for Raoul Moat as well".
Inside Out can be seen on Monday, 7 October 2013 at 19:30 BST on BBC One North East & Cumbria and for seven days afterwards on the BBC iPlayer.