River Kennet fish checked after chemical contamination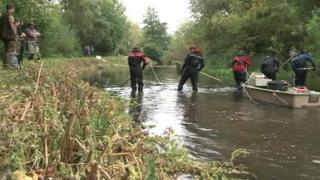 Fish from a stretch of the River Kennet are being measured and weighed to check their health after a pesticide killed millions of invertebrates.
Part of the river between Hungerford and Marlborough was polluted by the chlorpyrifos pesticide in July.
At the time the Environment Agency said the pesticide had affected invertebrates but not the river's fish.
Three months later fisheries officers are checking to make sure the fish have not been affected long term.
By using electrical currents, they have been stunning the fish so they can catch them, check, measure and weigh them, before releasing them.
John Sutton, from the agency, said: "This incident killed millions, literally millions of aquatic insects, between Hungerford and Marlborough.
"What we're doing today is really looking at what the impacts on the wider ecology is, what sort of condition the fish are in.
"Are they losing weight or are they managing to find a living, even in these conditions when there seems to be very little food about?"
A 10-mile (16km) stretch of the river in Berkshire and Wiltshire, which is a Site of Special Scientific Interest (SSSI), was affected.
The source of the contamination was never found.
Scientists from University College London (UCL) have been working with volunteers to move mayfly, caddisfly and freshwater shrimp from healthy parts of the river to repopulate the pesticide-hit stretch.