Second East Surrey Hospital ward closed to visitors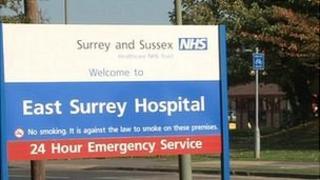 A second ward has been closed to visitors at East Surrey Hospital because several patients have symptoms of diarrhoea.
Chaldon ward, which cares for stroke patients at the Redhill hospital, has now been closed.
Tandridge, a respiratory and medical ward, is also closed. It was shut to visitors last week because of an outbreak of the norovirus sickness bug.
Surrey and Sussex Healthcare Trust said it did not know when they would open.
It said visits were being restricted to prevent the spread of infection and that the decision had not been taken lightly.
The hospital, which serves parts of Surrey and Sussex, said that in exceptional circumstances visitors could speak to the ward manager or nurse in charge.